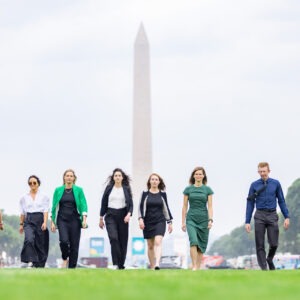 Federal Policy
Federal Policy
POW Action Fund engages in federal policy campaigns to ensure legislation is passed on Capitol Hill to reduce emissions, add clean energy to the electric grid, invest in electric vehicles, guarantee a just transition to a renewable energy economy and reduce fossil fuel emissions on public lands. We deploy our staff, athletes and corporate partners across the nation to reinforce the common thread between the outdoors and climate change, and build relationships with key Members of Congress and discuss how they can best represent the 50 million members of the Outdoor State. Encouraging lawmakers to integrate climate action into their legislation is no easy task. Luckily, our calloused fingers are authentic. And we're ready to put in the work.
Here's a look back at POW Action Fund Lobby Days and the legislation we have supported:
2020
In 2020 POW Action Fund held two virtual Lobby Days (thanks to the Covid-19 pandemic) to advocate for clean electricity, clean cars and electric vehicle infrastructure. We asked lawmakers to consider nationwide programs to scale clean and renewable energy as well electric vehicle infrastructure.
Clean energy incentives were proposed in the following bills that POW Action Fund supported:
-H.R. 2096/S. 1142: The Energy Storage Tax Incentive and Deployment Act of 2019
-H.R. 3961/S. 2289: The Renewable Energy Extension Act
-H.R. 4887/S. 1988: The Offshore Wind Power Act and H.R. 3473/S. 1957: The Incentivizing Offshore Wind Power Act
-H.R. 2256/S. 1094: The Driving America Forward Act
2021
In 2021 POW Action Fund held two Lobby trips to thank lawmakers for their support of the Infrastructure Investment and Jobs Act while asking them to consider policies that were not in the bill, including:
-Development of a National Clean Electricity Standard.
-Simplification of America's complex clean energy tax incentive system.
-Development of an Energy and Economic Transition Impact Study to see how the transition to net-zero emissions impacts fossil-fuel based communities.
-Creation of tax incentives to promote domestic solar energy manufacturing.
-Electric Vehicle (EV) Charging Equity Program with the creation of grant awards to create EV charging infrastructure near affordable housing.
2022:
In 2022 POW Action Fund held two Lobby trips with the goals of building relationships with Republican members of Congress and to build a connection between climate change and outdoor recreation. We advocated for policies including an updated grid and affordable renewable energy, but more specifically the following:
-Program funding that focuses on reducing emissions. Specifically for the Greenhouse Gas Reduction Fund and Climate Pollution Reduction Grants.Investing in electric vehicle infrastructure.
-Community assistance with worker transition, specifically for Energy Community Reinvesting Financing.
-Updating the grid to power a renewable energy future with Transition Line and Intertie Incentives.
-Support for H.R. 2406/ S.1016, the Electric Power Infrastructure Improvement Act. This bill will allow a tax credit through 2031 for investment in qualifying electric power, transmission line property and directly benefit 22 large-scale transmission projects across the country. Additionally, this bill would support more than 500,000 jobs, improve the resilience of the grid and support new projects that connect modern renewable energy resources to the power demands of regional consumer markets.
-Supporting electric vehicles and electric vehicle infrastructure by making investments in rebates.
-Stop drilling in the Arctic to repeal the Arctic National Wildlife Refuge Oil and Gas Program.
-Stopping the Willow Project in the National Petroleum Reserve in Alaska.